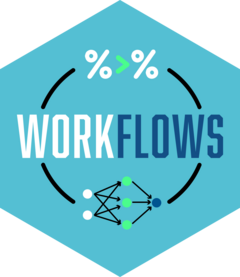 Augment data with predictions
Source:
R/broom.R
augment.workflow.Rd
This is a generics::augment() method for a workflow that calls augment() on the underlying parsnip model with new_data.
x must be a trained workflow, resulting in fitted parsnip model to augment() with.
new_data will be preprocessed using the preprocessor in the workflow, and that preprocessed data will be used to generate predictions. The final result will contain the original new_data with new columns containing the prediction information.
Usage
# S3 method for workflow


augment

(

x

, 

new_data

, 

...

)